This shop has been compensated by Collective Bias, Inc. and its advertiser. All opinions are mine alone. #GetJohnsonsBaby #ChooseGentle #CollectiveBias
I can't believe my niece, Khloe is almost a year old! I have absolutely loved spoiling her for the past year. Well, actually longer than that because I'm pretty sure the day I found out my sister was pregnant I was at Target buying stuff for her!
From that day, to her baby shower, to now shopping for her is probably one of my favorite past times, although I'm sure my husband wishes I would find another hobby. When it comes to shopping for my niece, I am sticking to most of the brands I know and have relied on for years.
JOHNSON'S®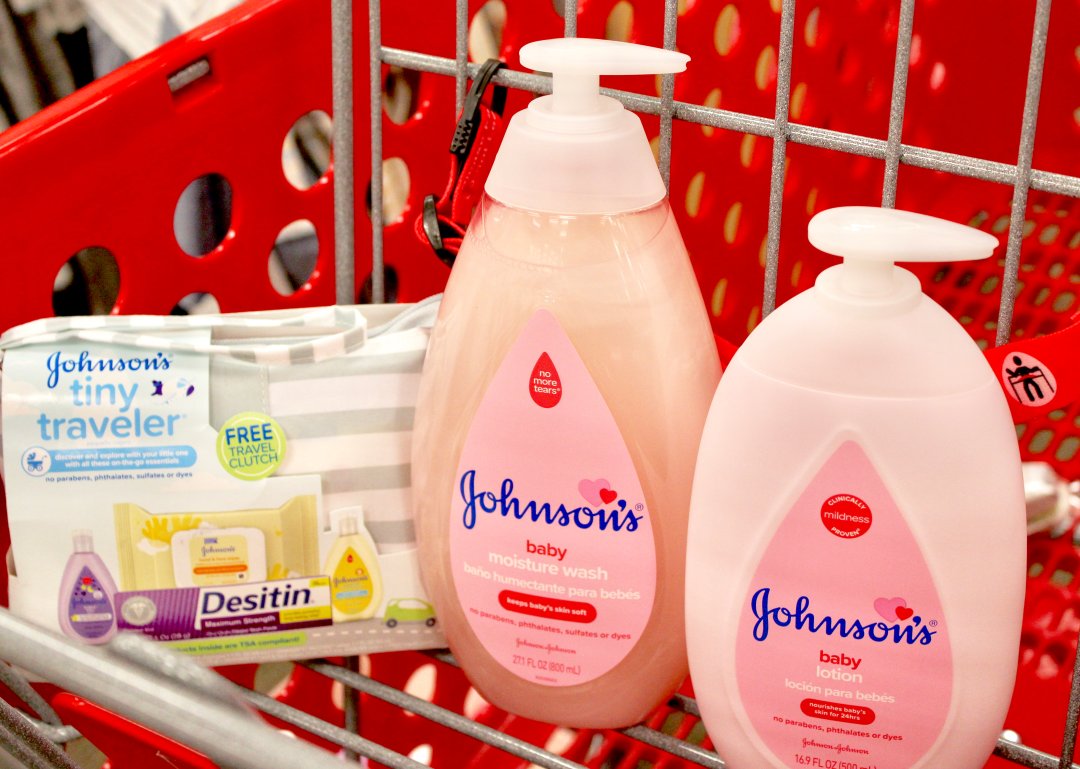 Click on the tags in the picture for product details!
My sister being a first time mom, I wanted to give her advice when she was trying to figure out which products to use on her new babe. One of the brands I recommended to her was JOHNSON'S® and their baby care line. I used these products with my girls, who are 9 and 11 years old, when they were babies and now my sister uses them for my niece.
As a mom of two, we have definitely gone through our fair share of JOHNSON'S® products over the last eleven years. I loved JOHNSON'S® then and I love it now! I feel even more confident buying JOHNSON'S® for my niece now because they have reformulated their products, inside and out, to set a new standard for gentle. Their products now have 50% fewer ingredients and contain no parabens, no phthalates, and are hypoallergenic.
Target is our one-stop-shop for all things baby for my niece, and just all things in general who am I kidding?! JOHNSON'S® – the brand you trust is now more gentle than ever! JOHNSON'S® baby products have relaunched at Target and I love their easy-to-find display!
I made sure to stock up on all my favorite bath time essentials from Target and put together a little bath time kit to send to my niece. I made one similar for her when my sister was pregnant and now I like to send them periodically so she never runs out! We live 8 hours away and I'm sure my sister could always use extra baby care items to have on hand!
In the bath time kit I included a cute card, a hooded bath towel, JOHNSON'S® Safety Swabs, and a variety of other JOHNSON'S® products. I had to include some of my personal favorites which are, JOHNSON'S® Head-to-Toe Wash & Shampoo and JOHNSON'S® Baby Lotion which are perfect for daytime baths.
Since we live 8 hours away, I also included the JOHNSON'S® Tiny Traveler Gift Set. This is perfect for getaways and vacations. It contains an assortment of travel-size bath time and skin care essentials to help pack lighter, which we all know isn't the easiest task with a baby. I hope she will be using this Tiny Traveler Gift Set soon when making a trip to the beach to visit us! Hint, hint. I mean I think she loves it here!
I will always recommend JOHNSON'S® to any new mom, and I am so glad I can make sure my niece is using these products as well! 9 out of 10 parents recommend these simpler and gentler products!
JOHNSON'S® continues to evolve with the millennial mom to keep up with the changing needs of mom and baby. They maintain the safest ingredients while staying true to the brand people love and trust.
Weather you are buying JOHNSON'S® for your own baby or sending them as a gift Target has everything you need! And currently Target has a great offer going on for JOHNSON'S® baby products- buy 3, get a $5 gift card – which lasts through September 1st, 2018. Just another excuse to head to Target, like we needed one, right?
And, if you are currently pregnant, don't forget about Target's baby registry because once you register you can get their amazing welcome kit (a $100 value) for free! It's a great way to sample products from great brands like JOHNSON'S®.